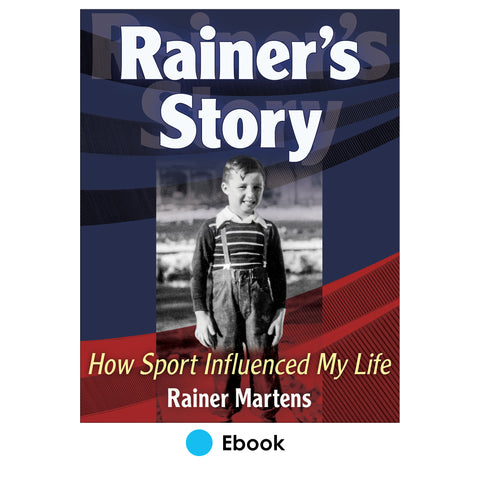 Rainer's Story
Author:
You might know Rainer Martens as the founder of Human Kinetics or as a leader in sport psychology, but did you know he emigrated from Germany as a young child or that he coached college and high school wrestling? Did you know he has won 63 national slowpitch softball championship titles as a player and 46 senior championships as a coach?
In Rainer's Story, you'll read the compelling story of Rainer's rise out of poverty and the thread that sport wove throughout his life. You'll hear his firsthand account of
The story of his birth during World War II Germany and how he came at a young age to live in central Kansas;
The ways in which his early years were shaped by poverty, race relations, education, and sport;
The women who influenced his life, including his mother, mothers-in-law, and the two loves of his life, Marilyn and Julie;
The enjoyment he has found in slowpitch softball, travel photography, and now pickleball; and
How he has used his accomplishments as a means to give back to his family, friends, the field of physical activity, and the communities in which he has lived.
A fascinating read, Rainer's Story will draw you in with captivating anecdotes and over 600 photos, most of them taken by Rainer himself. Rainer's Story provides inspiration by showcasing an immigrant who persevered through significant challenges to become a successful researcher, educator, businessperson, and philanthropist.
Part I. Education
Chapter 1.
Rüsselsheim to Kansas (1942-1947)
Includes the Fischer Family Genealogy
Chapter 2. Grade School (1947-1954)
Includes the Martens Family Genealogy
Chapter 3. Junior High School (1954-1957)
Chapter 4. High School (1957-1960)
Chapter 5. Undergraduate Education (1960-1964)
Includes the Pohlman Family Genealogy
Chapter 6. Montana (1964-1966)
Chapter 7. Doctoral Studies (1966-1968)
Includes a brief biography of my brothers and sister
Part II. Academe
Chapter 8. Children's Research Center (1968-1975)
Chapter 9. Waterloo (1975-1976)
Chapter 10. Return to the University of Illinois (1976-1985)
Part III. Marriage
Chapter 11. Marilyn (1961-1991)
Chapter 12. Julie (1992-Today)
Includes the Simon Family Genealogy
Part IV. Themes
Chapter 13. Physical Education and Kinesiology
Chapter 14. Sport Psychology
Chapter 15. Children's Sports and Coaching Education
Part V. Human Kinetics
Chapter 16. Human Kinetics (1973-1999)
Chapter 17. Human Kinetics (2000-Today)
Part VI. Florida
Chapter 18. Senior Softball
Chapter 19. Travel and Photography
Chapter 20. International Photo Excursions
Chapter 21. Pickleball
Chapter 22. Giving Back
Epilogue
You can choose to download Rainer's Story as either a PDF or ePub file. If you choose the PDF version, the file will appear in a format that resembles a print book. The font size and text flow will be locked into place and cannot be adjusted. If you choose the ePub version, your reading experience will be more flexible and customizable. Please note that if you aren't already familiar with downloading and opening ePub files it is recommended that you choose the PDF version. Also note that reading this ebook on a mobile phone will not provide an optimal experience, due to the file size and extensive use of photographs. Using a tablet or computer is recommended.
Choosing the PDF file:
Click the link for the PDF. The file will open in your browser and can be read from there; however, it will not be saved on your computer or device.
In order to save the file on your device so it can be accessed offline, click the Download button.
If prompted, choose Save file.
Once the file is downloaded to your device, find that file and click to open. You will need a PDF reader to open the file. If you don't already have a reader, you can download Adobe Reader for free.
Choosing the ePub file:
Click the link for the ePub.
Click the Download button to save the file to your device.
Once the file is downloaded, find that file and click to open. You will need ebook reader software to open the file. If you are using a computer, Adobe Digital Editions—a free ebook reader—can be used to open ePub files. On an iOS device, the Books app can be used to read ePub files.